NEWS & MEDIA
Suir Valley Ventures Invests in ProVision, a Leading IoT Fleet Management System
9 November 2017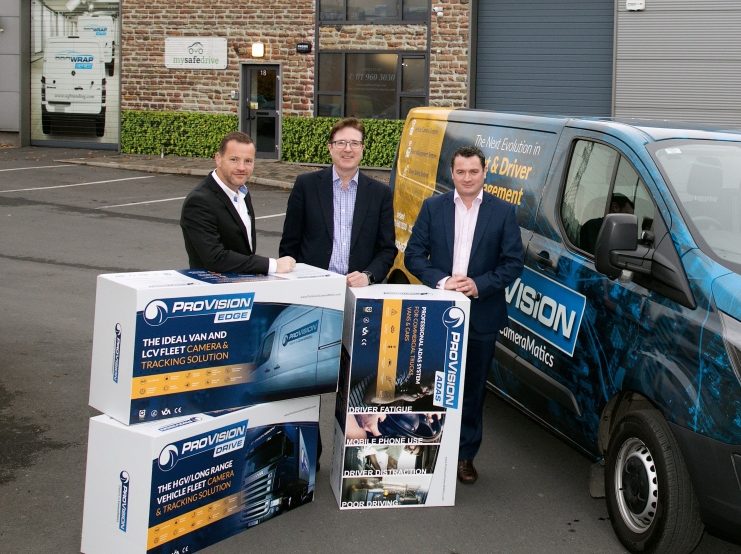 Suir Valley Ventures, the entrepreneur-led venture capital fund, launched in February 2017, has, together with private investors, invested a combined total of €1,000,000 in ProVision Vehicle Cameras, a leading Internet of Things ('IoT') company focused on providing advanced fleet and driver management systems. This is Suir's fourth investment and follows closely on the heels of investments in an educational VR business, Immersive VR Education, leading IoT cloud platform, Wia, and reality games developer, WarDucks.
ProVision is a world leader in the field of quality video recording capabilities known as CameraMatics. This technology provides remotely accessible IoT solutions to manage and reduce fleet risk, enhance driver safety, increase fleet efficiencies and help operators comply with growing governance and compliance regulations. The technology combines highest quality vehicle camera and tracking technology linked to advanced cloud software, and ProVision's most advanced products can issue warnings such as flagging driver fatigue, mobile phone use, collision dangers, lane departure and driver distractions, ultimately improving road safety and helping companies with compliance requirements.
ProVision has already installed its systems into hundreds of fleets across the UK and Ireland, comprising thousands of vehicles, and plans to accelerate the roll-out through its partnerships with large fleet operators, leading insurance providers, motor manufacturers, and fleet leasing companies; the investment will enable ProVision to further implement its strategic expansion plans.
As part of the investment, Gareth Burchell, Head of Stockbroking at Shard Capital Stockbrokers, is joining the board of ProVision, bringing with him more than 15 years of experience in the City.
Suir Valley Ventures Managing Partner, Barry Downes, said, "This seed funding will enable ProVision, with its proven technology, to modernise an even greater number of fleets, resulting in increased road safety, compliance with regulations and shielding them from fraudulent claims against drivers. The IoT is an industry with vast potential and ProVision's unique cloud based software solution provides fleet managers with the most comprehensive end-to-end solution available in the market. It is a privilege to support the ProVision team and we look forward to helping them to take their business to the next level."
Mervyn O'Callaghan, Managing Director of ProVision, said, "IoT is growing at the speed of light; its total market size is expected to grow to $3.7 billion by 2020 up from $900 million in 2015. ProVision, with its established client base and proven technology, is perfectly placed to capitalise on this flourishing industry. We are delighted with the support that we have received from Suir Valley and our private investors and look forward to gaining an even stronger foothold in the sector."
ENDS
NEXT STORY