NEWS & MEDIA
Sure Ventures plc – investment in holographic tech start-up VividQ
26 April 2019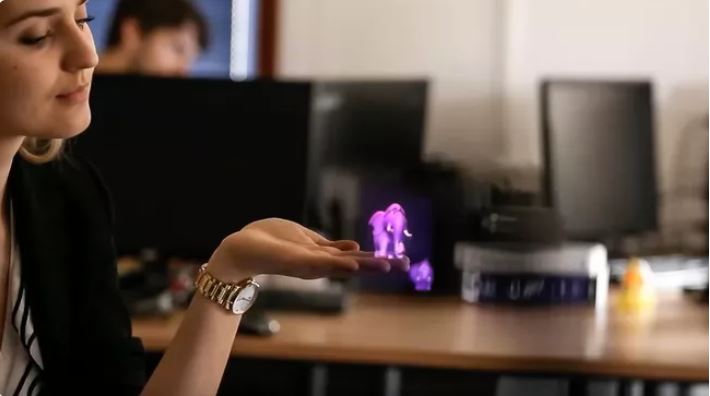 Sure Ventures plc, a London listed venture capital fund which invests in early-stage software companies across a range of high-tech verticals including Augmented Reality ('AR') and Virtual Reality ('VR'), Artificial Intelligence ('AI'), and the Internet of Things ('IoT'), is pleased to announce it has made a direct investment of £500,000 in VividQ Limited – a UK-based deep tech software company pioneering the application of holography in AR/VR and consumer electronics display.
Overview
VividQ is a deep tech start-up with world-leading expertise in 3D holography. The company developed patented software to enable commercial applications of holographic display in AR/VR headsets, smartglasses, automotive head-up displays, and consumer electronics.
VividQ was founded in February 2017 in Cambridge, UK. Technical co-founders include engineers, mathematicians and computer scientists from the University of Cambridge, Oxford, and St Andrews with expertise in digital holography.
VividQ established partnerships with chipmakers, display and hardware manufacturers in the US, Taiwan and Europe, to enable mass adoption of holographic display with their patented software for hologram generation.
The AR market is expected to grow from $11 to $61 billion between 2018 and 2023, with the VR market growing from $8 to $34 billion in the same period, at CAGRs of over 30%, according to Markets and Markets. At the same time, the global display market, valued at $115.60 billion in 2017, is projected to reach $206.29 billion by 2025, registering a CAGR of 7.4% from 2018 to 2025, according to Allied Market Research.
The investment will enable VividQ to accelerate the adoption of their hologram generating software. They aim to double their Cambridge and London-based teams to implement further developments to the software framework and complete ongoing customer projects, to productise devices using holographic display in 2020.
Sure Ventures CIO, Barry Downes, said, "We are delighted to invest directly in VividQ Limited. Darran and his team have the unique combination of the world-leading expertise and the pioneering,  proprietary software technology that is the missing piece needed for the mass adoption of holography, which will radically enhance and grow the AR and digital display industry."
VividQ's CEO, Darran Milne, said, "Sure Ventures have been great to work with, both for their professionalism and deep understanding of the companies they invest in and the technology behind them. They demonstrate the kind of vision and passion that the deep tech companies of today need to accelerate bringing truly disruptive solutions to market."
Further Information
Founded in February 2017, VividQ is a deep-tech software company with world-leading expertise in 3D holography. With seed funding, VividQ has grown its Commercial and Technical teams in Cambridge and London, made a full release of their software framework, and secured partnerships with world-class customers including hardware and embedded systems manufacturers.
Holography has long been considered the ultimate display technology. The science fiction ideal of engineering and manipulating light to produce 3D projections appealed to the imagination of millions through franchises such as Star Wars or Star Trek. While physically possible, the tremendous computing requirements to create full-depth holographic display made it unreachable for commercial applications. Until now.
VividQ has developed solutions required for the mass adoption of holography in AR and consumer electronics. Its patented software framework allows for the real-time generation of holograms from 3D data, and projection on available micro-displays. Commercially viable holographic display solves a crucial problem of today's AR/VR – the lack of depth perception, which disrupts the user's sense of realism and results in eye-fatigue and nausea. Holography overcomes these issues and paves the way for immersive 3D without the need for glasses at all.
With technical co-founders leading their team out of Cambridge (UK), VividQ has benefited from the rich research environment of the University and its Centre for Advanced Photonics and Electronics. VividQ's Commercial Team operates from London, as part of the rich entrepreneurial network of TechHub and Innovation Warehouse. The company has achieved wide recognition at international industry events including AWE, nVidia GTC, Photonics West, and Mobile World Congress.