NEWS & MEDIA
Launch of commercial UV cleaning solution – Uvisan
6 August 2020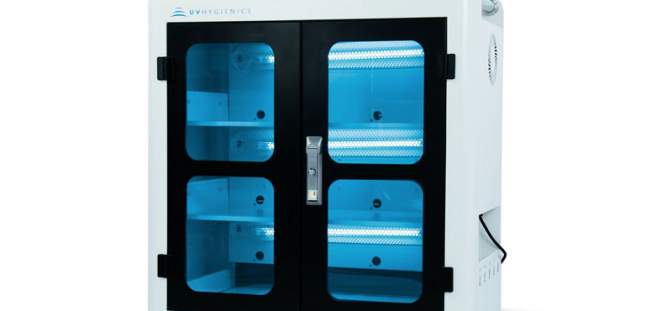 Launch of commercial UV cleaning solution – Uvisan
RNS Number : 2893V | Immotion Group PLC | 06 August 2020
Immotion Group plc
("Immotion Group", the "Company")
On back of demand, Immotion launches commercial UV cleaning solution – Uvisan
Immotion Group, the UK-based immersive entertainment group is pleased to announce, following its trading update of last week, the launch of a range of proprietary UV anti-bacterial cleaning cabinets, under the Uvisan brand.
As per the statement last week, as a direct response to the COVID-19 crisis the Company has designed and had exclusively manufactured a range of proprietary UV disinfectant cabinets. The new product was originally designed for the sole purpose of cleansing VR headsets for its larger partner locations, predominantly Shark Reef at Mandalay Bay, Las Vegas. The Company realised that the cleansing of VR headsets was going to be important to maximise both operational throughput as well as keep customers safe. Following the announcement last week, the Company has received numerous external commercial enquiries. As a direct result it has decided to sell the cabinets to third party companies under the Uvisan name.
Following exceptional demand, the Company in  the last week sold 10 cabinets, including four cabinets to Chichester University, who have purchased the cabinets to protect sensitive equipment against COVID-19 infection.
The University approached Uvisan as they quickly realised multimedia equipment such as microphones, laptops and speakers cannot be treated with traditional solution-based alcohol cleaning materials, and as such they needed a proven solution for this problem. The Uvisan cabinets provide a clinically proven alternative to protect students, staff and business partners.
Chichester is the first University to be supplied by Uvisan, although we are starting to see enquiries from other academic faculties.
The cabinets are available in a variety of sizes with the largest able to accommodate, cleanse and charge up to 30 laptops in a matter of minutes. The Uvisan cabinets range in price from £2,399 to £3,199.
The Uvisan cabinet will provide Chichester University with medical-grade light spectrum cabinets that have been proven to kill 99.9% of all pathogens including virus and bacteria, removing the need for alcohol and solution based products that could harm sensitive technology.
The Company has tested the cabinets on a variety of equipment, including Motion capture suit components, Microphones, Keyboards, Cameras, PC peripherals, Headphones and VR headsets to name but a few items. Due to demand a UV clothing cabinet has now been designed with a view to supplying sectors where the cleansing of uniforms, and staff clothing is essential.
The Uvisan process works by harnessing ultraviolet germicidal irradiation (UVGI), which is a disinfection method that uses short-wavelength ultraviolet (ultraviolet C or UVC) light to kill or inactivate micro-organisms by destroying nucleic acids and disrupting their DNA,  leaving them unable to perform vital cellular functions. UVGI is used in a variety of applications, such as food, air, and water purification.
A cleaning cycle using UVGI takes between 3 to 10 minutes (dependent on the number of devices and object surface complexity) and can sanitise up to 100 phones, 50 tablets or 30 VR headsets in a single cycle.
Arek Antoniak, Operations Director – Immotion said: "When the pandemic hit we knew we had to find a solution for our larger VR Partners, our team set about designing a cabinet from scratch and within weeks had created and built the Uvisan range. All the cabinets have undergone extensive clinical testing and are proven to kill 99.9% of bacteria and viruses in a matter of minutes."
"The Uvisan solution is ideal for Universities, Schools, TV Studios and effectively any organisation where the use of a solution based cleansing method is not acceptable. We know many organisations need a guarantee that the equipment their staff and customers are using is safe – Uvisan can provide this level of comfort."
Rod Matthews from Chichester University said: "At the University of Chichester we take pride in ensuring our students have the safest as well as the best experience across everything we do. Our students can expect to have hands-on experience of high-tech equipment across our entire curriculum, and especially in our innovative eSports, eGames Design, Animation and Film Production facilities. In our state of the art Tech-Park, students get to use high-end industry filming equipment such as motion capture, as well our extensive bespoke computer labs to create and edit films, audio, animation to industry production standards."
"We needed a solution that was easy to use and would eradicate bacteria without damaging the sensitive equipment used by our colleagues and students. The Uvisan cabinet was the perfect proven solution allowing us to clean all our equipment in a simple and quick cleaning cycle."
 Enquiries:
 For further information please visit  www.immotion.co.uk , or contact: 
Immotion Group

Martin Higginson

Tel: +44 (0) 161 235 8505

WH Ireland Limited

(Nomad and Joint Broker)

Adrian Hadden

Darshan Patel

Matthew Chan

Tel + 44 (0) 207 220 1666

Shard Capital Partners LLP

(Joint Broker)

Damon Heath

Erik Woolgar

Tel: +44 (0) 20 7186 9900

Alvarium Capital Partners

Alex Davies

Tel: +44 (0) 207 195 1433
  About Uvisan – A member of the Immotion Group.
Uvisan is part of Immotion Group plc. The Uvisan cabinets are fully certified by ISO standards of manufacturing. Its product has been fully tested and certified in line with IEC 62471 Photobiological Safety Standards. The pathogen kill rate efficiency, as quoted in this release, has been confirmed by laboratory testing and result certificates are available upon request. Uvisan.com
This information is provided by RNS, the news service of the London Stock Exchange. RNS is approved by the Financial Conduct Authority to act as a Primary Information Provider in the United Kingdom. Terms and conditions relating to the use and distribution of this information may apply. For further information, please contact  rns@lseg.com  or visit  www.rns.com .
END
NEXT STORY